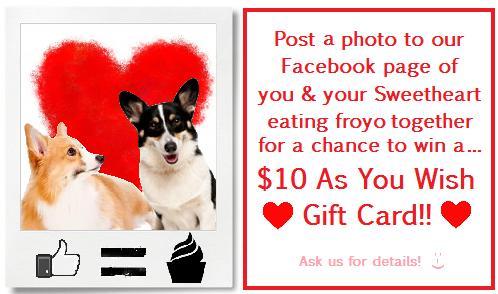 Feeling photogenic this February?
Maybe you're looking for something to distract you from the Super Bowl?
Well, look no further! 'Cause you've just found two corgis "photoshopped" onto a heart in a polaroid.
"But why?" you ask? For our Valentine's Day Photo Contest! That's why!
From now until Valentine's Day, you can post a picture directly to our Facebook page of you and your sweetheart/bae/girlfriend/boyfriend/significant-other/husband/wife/spouse/partner/BFF/etc enjoying froyo together for a chance to win a $10 As You Wish Gift Card!
Simply post the photo online to our Facebook page and tell all your friends to like it!
Come the morning of Valentine's Day, we will see which picture has the most likes, and will contact the poster to let them know that they've won.
Sound easy?
Good!
Then get to it! Take those cutesy couple photos! Post 'em to our page! And be absolutely shameless about it! <3 <3 <3